Welcome to 2014 people! May it be a splendid year for us all as we ride the big waves of change and head into the 'pipeline' of the Uranus/Pluto 'zap zone'. This primary feature between 2011 & 2016 offers us the shift between the old world and the new earth paradigm, challenging us to transform and regenerate our lives with exciting innovative new ideas and  solutions.
Here's the link to my full 2014 Astrology  Report & Horoscopes so you can download as a pdf  >>>click<<< and of course you are welcome to share.
New Year's Day kicks off with a new moon in Capricorn at 11 degrees with major challenging aspects from transformer Pluto, revolutionary Uranus, activator Mars and expansive Jupiter. So don't be surprised if 2014 opens with some fireworks in more ways than one with disruptive and/or fabulously unexpected events that propel you forward. As the Jan 1st chart is a microcosm for the whole year this theme is a feature for the year ahead. Mars in the equation challenges us to step into our power and free up old partnerships that limit us, walk new paths that offer the freedom to be who we really are, and ride the wave of change with courage and commitment to being the best that we can be! Make like a 'peaceful warrior' as you assert yourself toward your goals and say yes to change and innovation in your world. If you try to hang on to the past you will just create resistance and unnecessary pain and conflict!
This New Capricorn Moon stirs up the big swells of a turbulent sea that will amp up global energies another major notch as the year unfolds…especially during the first 6 months as Jupiter in Cancer and Mars in Libra stir up the high pressure systems! Yes there is a fab upside if you know how to use your positive mojo and empower your mind to set fresh revitalizing goals for your life. We are 'upgrading our operating system' over these years, stepping beyond a long period of ignorance and neglect of our beautiful world. At this dynamic New Moon concentrate your heart and mind to focus your power and courage and commit to being part of the new consciousness that nurtures, protects and heals.
2014 will bring us further extreme weather events, earthquake and volcano activity, more revolutionary uprisings,  financial bubble bursts, and general unplanned interruptions to daily life. So the message is stay loose folks, don't try to  paddle against the tide and pleeeeeze avoid knee jerk reactions and the urge to send bits of anxiety and frustration at anyone! So right now visualise yourself as this dude in the tube in perfect balance and poise as your adrenals surge with the excitement of the moment. Then peel out of the wave and ride to the shallows reveling in the glistening water and satisfaction of your accomplishment.
Venus is also in Capricorn all month as she is in retro mode till 31st Jan. She offers increasing self worth from applying good common sense to our strategic planning for the year. Your mantra is "I am ready for success through setting goals and working toward them". Her stabilizing influence in relationship dynamics is a much needed counterpoint to Mars in Libra potentially stirring up shite!  People from the past may pop up unannounced so do any resolving, forgiving and releasing that arises here.
The Full Moon on Jan 16th at 26 Cap/Cancer asks us to strengthen and focus our inner emotional energy toward our goals for the year, echoing the theme of Jupiter in Cancer that says our 2014 success must be nurtured with the belief that we are safe in the world. Family commitments and responsibilities may feature so keep smiling and loving the mob you call family…whether they be connected by blood or the like minded folks who share your life.
The Zodiac is a simple 'unfoldment model' that begins on March 21 each year as we plant our seed of creativity for the year, then add the developmental ingredients each month to build toward the result in Capricorn time…where we reap the outcome for our efforts. We must also set fresh goals for the next natural new year on March 21st. Then in Aquarius time we develop ideas for these fresh goals. In Pisces time we let go of the current cycle and gestate the new seed…eh viola we are 'born again' on March 21st and off we go. Good old Astrology…such a useful tool for knowing what to do and when each year!
New Moon Jan 1st @ 11 Capricorn
Los Angeles  3.15am  New York  6.15am
London  11.15am  Sydney 9.15pm
Maggie Kerr presents… 'The Astrology of 2014'  Please join me for a celebration/gathering of Astro friends!…for my annual review of the unfolding Astro-scape for what promises to be an action packed year…+ insight & support to inspire each of you by applying the 2014 planets in transit to your life.
Saturday 8th February – 10am to 4.30pm 120 Plateau Crescent, Carrara 4211   $70  ALL WELCOME Email maggiekerr@universalastrology.com.au  0755 945959 to book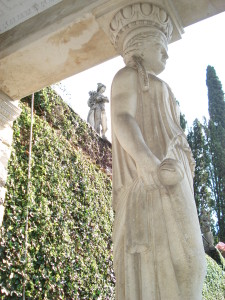 'Transformational Tours' with Maggie Kerr.
We are off to Greece and Turkey in September 2014 for a voyage of adventure and inspiration as we step in 'The Footsteps of Heroes'. Join me for 20 amazing days on this fully escorted group adventure suitable for folks who love to enjoy resorts & nightlife AND 'sacred stuff' on our daily visits to remarkable ancient sites to enjoy ceremonies to transform and heal into greater levels of your potential.
We begin in Greece with Athens – Santorini – Crete- Rhodes – Kos. Then over to the Turkish coast – Izmir-Ephesus-Priene-Miletus-Didyma – Canakkale-Troy-Assos-Pergamum – Istanbul.
Drop me an email or ring for details, itinerary and pricing. Come and play people!!
My new Webinar Series begins in February! "Adventures in Consciousness" In this 6 part program we will explore and develop –  What is Conscious Evolution. Why does it matter? What's in it for you to get conscious? – spiritual and practical outcomes – How do I do it? How will this help our world in crisis?
Drop me a line to register for this Spreecast series of sessions. I always strive to make this rather serious business fun and inspiring so please join us for an interactive journey of shared growth.