So kids are you ready for FREEDOM INVENTION LIBERATION & CHANGE?
If there is to be a day of celebration during 2014 it has to be Thursday/Friday as the fab new moon in Aquarius welcomes in the Year of The  Earth Horse.
This will be a year loaded with the fire to get things moving at a practical level, of action and adventure when we must strike out into new territory and dare to go for it. Horses and heroes go together of course, thus the nobility and courage of the horse is our animal totem for the year ahead. The call to our individual heroic process began in 2011 when Uranus entered Aries, triggering the massive shifts and revolutions in our lives and world since. 2014 brings us breakdowns, breakups, breakthroughs and breath taking shifts that have been building during 2012/3, especially during April when heaps of planets trigger the 'zap zone' of the Uranus/Pluto lineup…more of this next month. In July Jupiter (whose animal is the horse) moves into dynamic Leo for the first time since 2002, releasing lots of pressure from the 'zap zone' and opening fresh optimism and some fun back into life and love.
To create the freedom of Aquarius we have to 'liberate' people, things, attitudes, ideas, world views and what we used to believe kept us safe. We have to become 'objective', which does not mean detached or distant so we can cut off or out…or other nasty hurtful actions. It means stepping up to a very cool place where we 'observe' the world and don't emotionally blow up or out…so we can make conscious choices and decisions. This after all is the whole point of the 'shift' from unconscious to conscious…or 'Unity Consciousness' where we are 'free' to unite our rational left brain with our intuitive right brain.
So the question becomes do you really trust yourself to be free? Who will you be? Who and what do you need to release? Are you willing to expand your reality with new ideas and technology so you may move forward? Your mantra is "I am now free to be me…goodie". Once we jump on the change machine we invite and attract all kinds of splendid new unexpected developments. We become the Magician who unites the spiritual and the material worlds by knowing that we are each individuals whose true purpose is to use our gifts to serve the world.
The great inventor Nikola Tesla said "If you wish to understand the Universe, think of Energy, Frequency and Vibration". This Aquarian New Moon hits the button to enter warp speed acceleration in our new bio-molecular revolution, where this essential understanding will quickly become the new cool way of thinking…think 'Science finally meets God'. The invention and techno department ruled by Aquarius will go nutso with a dazzling array of new options to either uplift and improve our world, or totally overwhelm us with yet another wave of surveillance based technology. Yes your household appliances and phone will soon be used by 'the authorities' to make sure you are not being a naughty person…"in the interests of national security". Enjoy this link >>>click here<<< re sonic geometry the language of frequency and form.
We will hear much more about 'the science of climate change' because of recent extreme weather so beware dire predictions, and be sure to remind those who will listen that the Sun's cycles have everything to do with a new 'mini ice age' on the way. The sun's magnetic field has fully reversed its polarity on Dec 31st, marking the midpoint of Solar Cycle 24, which will be completed in 11 years time, also contributing to increased extreme events. >>>click here<<< for video.
Another fab area under direction from Aquarius is science fiction, space and 'ET Phone Home'. Richard Branson's Virgin Galactic is due to commence this year, ushering in commercial space travel, and many governments are now openly discussing ET phenomena. Will we be holding our first press conference with our ET mates this year? Thanks to Richard Giles for interesting link: >>>click here<<< What is This Mystery Object Spotted on Google Moon? Is it part of an alien spaceship nestled under the dust of the moon, or a secret moon base occupied by humans?  Speculation has exploded over these controversial images which appear to show something unexplained on the surface of the moon.  *Bizarre wedge-shaped 'craft' appears on the lunar surface *  The triangular anomaly has rows of seven light-like dots along its edge*  UFO websites have likened it to an alien lunar base or spaceship
Our favourite planet of movement and communication Mercury does his retro thing between Feb 6and 28…also in the sign of Aquarius. So in the midst of all the exciting change on offer he cautions reviewing your options and dotting i's and t's before proceeding. He frees up in March so you have until the 17th to snap up the fab ideas and connections before he skips into the Piscean quiet zone. Venus also turns direct on the day of the new moon Year of the Horse, and completes her run through Capricorn until March 5th when she also dives into Aquarius. Her innate caution and good sense are a welcome addition to the rather mad and eccentric Aquarian options…listen to her and keep cleaning out your cupboards.
Valentine's Day this year is 2-14-2014 a splendid set of numbers that suggest this day is hugely powerful for "entering the Heart" regardless of your Valentine status! And lastly speaking of becoming our own "Magician" the word Abracadabra is a magical word. It is universally accepted and has no translation in other languages. Abracadabra is used as a magic word and was believed to have healing powers when inscribed on  an amulet. The word "Abracadabra" is actually a Hebrew phrase meaning "I create (A'bra) what (ca) I speak (dab'ra)
New Moon Jan 30/31st @ 10 Aquarius   Los Angeles  30th@1.38pm                         New York  30th@4.38pm     London  30th@9.38pm      Sydney 31st@8.38am
We already have quite a few people coming to share Maggie Kerr presents… 'The Astrology of 2014'  so  please join us for a celebration/gathering of Astro friends!…for my annual review of the unfolding Astro-scape for what promises to be an action packed year…+ insight & support to inspire each of you by applying the 2014 planets in transit to your life.
Saturday 8th February – 10am to 4.30pm 120 Plateau Crescent, Carrara 4211   $70  ALL WELCOME Email maggiekerr@universalastrology.com.au  0755 945959 to book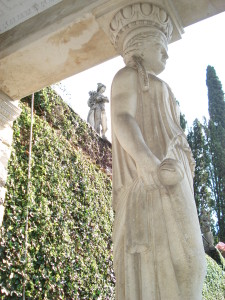 'Transformational Tours' with Maggie Kerr.
We are off to Greece and Turkey in September 2014 for a voyage of adventure and inspiration as we step in 'The Footsteps of Heroes'. Join me for 20 amazing days on this fully escorted group adventure suitable for folks who love to enjoy resorts & nightlife AND 'sacred stuff' on our daily visits to remarkable ancient sites to enjoy ceremonies to transform and heal into greater levels of your potential.
We begin in Greece with Athens – Santorini – Crete- Rhodes – Kos. Then over to the Turkish coast – Izmir-Ephesus-Priene-Miletus-Didyma – Canakkale-Troy-Assos-Pergamum – Istanbul.
Drop me an email or ring for details, itinerary and pricing. Come and play people!! My new Webinar Series begins in February! "Adventures in Consciousness" In this 6 part program we will explore and develop –  What is Conscious Evolution. Why does it matter? What's in it for you to get conscious? – spiritual and practical outcomes – How do I do it? How will this help our world in crisis? Drop me a line to register for this Spreecast series of sessions. I always strive to make this rather serious business fun and inspiring so please join us for an interactive journey of shared growth.