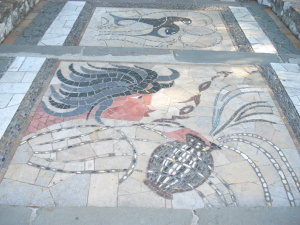 Opening New Doors Over the Coming Week!
I love this mosiac image from my pics, as the water carrier breathes life into the future freeing us to release the seeds of new life. A perfect message for us over this next week as Sun & Mercury in Aries are fired up by Mars in Sagittarius. Yes after what feels like a long 'hibernation' as we have been 'incubating our seeds' it's time to step out & activate & motivate our plans for the rest of 2016.
Just be aware that these energies a…re for setting up goodies to be realized from late August after Mr Mars has completed his long retrograde phase, so we must also keep beavering away at our projects with a big growth spurt for these over the next week.
These are adventurous travelling stars to expand our inventive clever bits and with Uranus also in the mix 'expect the unexpected'! Great timing for web sites going live, booking travel plans & inviting IT support for promo & imaging.
As Jupiter in Virgo continues his encounter with Node & Chiron in Pisces we are also still in a 'profound mystery' phase as we confront our personal & global healing crisis. We are letting go of the past…literally & energetically right now, so bless it all & say yes to healing & releasing your old gene codes still locked in the lower nature of fear & confusion.
The fiery energy of coming weeks will stir up the geo political/ economic scene big time with massive fluctuations and extremes. So how do we operate in this weird & beyond belief time?
We remain objective! We watch the global stuff with an attitude of 'curiouser & curiouser'…remember Alice in Wonderland as the crazy archetypes are strutting their stuff?
Wowsie this is an interesting Fire Monkey Year so far isn't it?
What we are seeing played out on the global stage right now is the extreme polarization between the new & old worldviews. Conflict & separation V co-operation & reason. The various political candidates in the USA & Australia & everywhere for that matter are just screens upon which we project our personal world view. Getting 'fired up' about any of them is an unconscious reaction that just keeps inflaming the separation. Follow your conscience with passion but do it from a calm centre.
This amazing time in global history contains the opportunity to write a new global paradigm. What we are witnessing are things 'coming to a head' as the old order is confronted by the unrelenting need for change & liberation…in every religious and political system!
PEACE & LOVE!