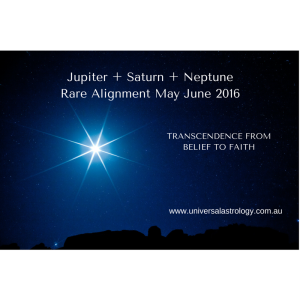 Jupiter + Saturn + Neptune – June through September 2016
Time to let our Soul run the show!
We're in the midst of "mutable madness" during this last week of May & early June, as Jupiter & Saturn & Neptune form provocative 'squares' to each other in Mutable signs. SO ALL THREE planets are in tense stand-off forming a T Square…big stuff!
To really kick start and amplify this major process we have the New Moon on 4th June (USA) 5th June (UK & Oz) @ 14 degrees Gemini with Venus – opposite Saturn in Sagittarius – square both Jupiter in Virgo & Neptune in Pisces. These are VERY tight connections & form a great big CROSS in the sky.
You may be inspired to turn off media during this time as the 'talking heads' will be in overdrive telling us what we need to 'know & believe'…think Trump on steroids! Just remember that even if they 'believe' they know what they're talking about they actually don't. As the fever pitch opposition between political parties amps up big time, why is it that none of them ever mention the elephant in the room…namely the true monopolistic power behind the throne, which goes unnoticed and unprotested. The banking industry acts as if it is but a humble financial services industry, while actually it is the master system running western political systems, political, educational, environmental, agricultural, health, and legal. It hopes you never peek behind the curtain to discover who really pulls the strings!
Meanwhile we need to be adaptable and patient with self & others if minds & ideas change several times in a day! Bored & restless is another feature, so keep your humour, stay busy & stimulated, question everything you hear, don't espouse rigid views, and DON'T take things personally!  This is a fantastic time to work with 'mastering your mind' so you may use it rather than be controlled by it!
OK so if you're wondering why the last 3 months have been a tad tough & optimism seems to be hard to come by then let me introduce the culprits… Jupiter & Saturn! They are now completing their final 'square' in this 20 year cycle (started in 2000). This explains why things have been so bloody frustrating lately as Jupiter's urge to expand & grow is stymied by Saturn's restrictive, cautious, keep things grounded reality check. It can feel like driving your car with the brakes on!
They bring us a 're-structuring period' personally & globally with tension between the urge to move forward and the need to find new ways to do this. The three quarter point in any cycle is known as the 'crisis of re-orientation' & contains a 'reaping what we have sown' feature. Upside is we are poised to really start bringing the fruits of past labours home into later 2016 & beyond if we remain patient & cautious now.
Since Jupiter has been in Virgo since last September we're had lots of health/food focus & issues, and general realizations that our planetary environmental/economic/political 'systems' are so damaged! Jupiter does like to bring things to extreme expression after all.
Meanwhile we also have Jupiter & Neptune about to do their final three quarter square over the next 3 months…in their 36 year cycle. Downside scenario here includes the worst of the lies and deception of the old elite control mob as the unconscious system does their best to keep us in their hideous broken model.
Upside…and there is a big one! We are currently in a 'spiritual revolution' offering us the opportunity to step beyond our fearful limited lower nature, into our higher potential beyond ego & mind running the show. We've each been confronted by our own 'Waterloo battle" recently haven't we? So, we can stress and do 'fearful/worry/control', OR perhaps we can finally get the message and simply LET GO of all this and start trusting & flowing with life. This is what Neptune is trying to offer us…the gift of faith to allow our SOUL to direct operations. Re-connecting with Soul personally and globally is the evolutionary purpose of our times after all.
Jupiter in Virgo opposite Neptune in Pisces conducts the link between our psycho/emotional & physical health. Hence these two areas being so "up" right now. When we get sick on either level it is our Soul's way of showing us where our old unconscious patterns are stuck/damaged. Saturn's contribution in the mix highlights the fear that drives our old control issues i.e. powerlessness. And it can sure feel like we are powerless right now as our 'sick system' offers us Trump & assorted other politicians/ corporate/ banking leaders as hideous options!
But wait…that's the illusion they want us to have and it is NOT TRUE.
The theme of my 2016 Year Ahead Report is "Truth & Belief" as Saturn in Sagittarius highlights the limitation of BELIEF versus the freedom of FAITH. "During 2016 we are confronted by the extreme polarization between the major religious & political systems that are driving the conflict and suffering in our world. Why is it that the ideal of a loving tolerant God (Neptune) that inspired the various religions has been so hard to bring to reality (Saturn)? As we are now completing the 2000 year Age of Pisces (Neptune) it's time to resolve this polarization, into the Aquarian unified spirituality that transcends separate versions of God."
Our global material systems have programmed us to BELIEVE that we are limited and must conform to the old world view where hierarchies are the norm with the guys at the top controlling us little guys underneath! The transition from hierarchical to circular co-operative systems will still take many decades to achieve, but this particular moment in cosmic timing is pivotal to stimulate the masses to really start questioning the control game & start demanding more conscious options! A world where SOUL runs the show & all beings in all the kingdoms of nature are venerated as part of an ORGANIC WHOLE.
I call this process making the transition from 'worry & control to flying faith & trust airlines'! Once we're on board we are free to finally TRUST that even when things get edgy and our ego/mind doesn't know WTF is happening in our crazy world, we can stay in our centre where WE control manifesting our destiny as conscious co-creators.
Believe it or not this is actually an amazing exciting to be alive as we participate in the awakening of a whole new world view!! Blessings to all Maggie