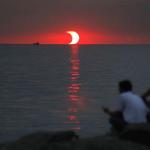 Just a quick hello this month friends, as I am deep in the Pisces zone lovin being 'off the boil' for a few weeks making the most of dreaming, resting, and yes more cleaning courtesy of Jupiter in Virgo…lol.  These weeks are time for releasing the past year & gestating our fresh intentions up until March 21st when Sun enters Aries and our new natural solar year begins.
So don't beat yourself up if you're also in the mood for down time and couch potato position. Also a fab time to see the many excellent movies around now as this is also Pisces domain.  Mail me if you'd like a session to enlighten & enliven your own individual journey
But I couldn't resist a little mention of the big news for March with a major Solar Eclipse new moon coming in on Tuesday/Weds depending on your time zone (times below). Solar Eclipses are 'system re-boots' marking radical endings/new beginnings in the affairs of the sign they fall…in this case @ 18 degrees Pisces. Eclipses hit the same degree/sign every 19 years so previous timings here are March 1997,78,59,40 etc, so cast your memory back here for clues as to implications this time. They also occur in 'Saros cycles' & this one brings "Endings & separations & new situations which lead to very positive outcomes"*. There is also much healing on offer via this eclipse both physically & psychologically, and health & food areas will be highlighted over coming months. We begin to experience the influence over several weeks leading up to the eclipse and for six months after until the next one in September.
The other well documented outcomes from solar eclipses are major weather/geological/ political events, especially 'under the path' of the eclipse, in this case over Indonesia with shadow extending up to Japan and Micronesia. No surprises then if we hear of seismic/volcanic events or political turmoil in this region over coming weeks.
With Jupiter in Virgo opposing the eclipse in Pisces events are 'big' & 'extreme' with important people & systems coming onto center stage. Saturn in Sagittarius is also @ 90 degree challenging square to both eclipse & Jupiter. So all this suggests some really big news & revelations to begin major re-design of religious and political systems.
Pisces associations are: spirituality/compassion/intuition/victims/rescuers/psychology/mental health/deception/lies/illusion/inspiration/clarity/dreaming/art/imagination/film/seclusion/retreat… and so much more but that will do for now! Thus eclipse guidance here as follows:
DO's – trust your intuition, dreams & visions then take thoughtful practical steps to bring them into form. Get clear about old limiting beliefs that may be impeding your growth into next phase of life. Don't rush things at the moment as is best to wait a few weeks before implementing major moves.  Be compassionate, non-judgmental & honest. Have faith in yourself and trust the flow of synchronicity in your life to bring you signals on next moves. Remain as objective as possible about people & events. Let go of old toxic people and attachments. Be as mellow & adaptable as possible. Set your intentions over the hours before the new moon in your zone. Practice visualizing the uniting of your left brain with your right brain & your heart in a divine triangle.
DONT's – rescue victims, over-analyze or criticize yourself or others, worry & fret, believe everything you hear, project your need onto others to be rescued or saved, over-react & do rage, be rigid or hard on yourself or others.
As Pisces eclipse + Jupiter in Virgo + Saturn in Sag are all associated with religion & belief, I have been fascinated by events in Rome, as Australian Cardinal Pell has been giving evidence to the Royal Commission into pedophilia by Catholic priests in country town Ballarat during the 1960s/70s/80s. This is making headlines globally as many 'victims' have attended the hearing in Rome in the hope that FINALLY the Vatican will be called to account for the culture that continues to allow protection of criminal priests. The timing here is remarkable as the movie SPOTLIGHT, which tells the story of this issue in Boston received an academy award for best picture. Gotta love Astrology!  One of the 'victims' when interviewed stated "What happened in Ireland stayed in Ireland; what happened in Boston stayed in Boston; but what happened in Ballarat has come to the Vatican". This is incredibly important as another revelation during this 2016 year as the truth is finally coming out of the unbridled corruption in religious/economic/political systems.
This eclipse also activates Mars in the USA horoscope @ 21 degrees Gemini, so we may expect 'angry words' on many levels being expressed over coming months. Perhaps people will finally become so disillusioned (Pisces) with the bizarre political system they will start speaking up for radical change? This may also account for Trump losing ground last week as the eclipse challenges both his Sun & Moon placements.
Another association here is the massive refugee tragedy in Europe creating a crisis between EU members as they seek solutions, & Angela Merkel in Germany who initially welcomed millions of refugees is now facing a leadership challenge.
Anyway enough about all that for now, as I would like to end on a positive note by reminding us that the overall outcomes from this eclipse are very positive if we are ready to let go of the past and carefully open our new doors! Enjoy the ride folks…it's an amazing time to be alive!!
NEW MOON SOLAR ECLIPSE @18 PISCES
L.A. – Tuesday 17.54
NEW YORK – Tuesday 20.54
LONDON – Wednesday 01.54
SYDNEY – Wednesday 12.54
Some links for your interest of a Piscean nature:
Murdered Holistic Doctors Update
Here's the full 2016 Astrology Report if you haven't had a chance to read it yet
'Adventures in Consciousness' Spiritual Life Coaching Program – I'm developing a 2 day + 4 day program for Bali plus here on the Gold Coast in Queensland so stay tuned for details in early 2016.