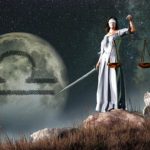 Sat night's Full Moon in Libra brings freedom, invention, liberation & change! Bring it on I say! As long as you're ready to dare to fly you're going to love this one, as it offers new frontiers & independent thinking people to play with, who also embrace stepping outside the box. This is all courtesy of revolutionary Uranus joining the Moon in Aries PLUS modern planet Eris, renowned for discord and chaotic ingredients to shake things up. So yes we can expect to see some emotional fur flying over coming weeks, but if you hold your center and keep your peace then marvelous shifts & accelerations bring major breakthroughs in your attitude & future circumstances.
With Mars & Pluto joined in Capricorn in the mix, our will & power are re-invigorated so we can take charge of our lives. They challenge us to send our energy toward our goals with foresight & careful structure, despite the urge for impulsive reactive moves.
In terms of the big picture in human evolution over these vital years we are meant to be healing old 'separation' issues, to enable 'inclusive' co-operative growth toward a sustainable future. So don't buy into any old rejection patterns that damage or cause pain to yourself or others…got it?
What we are seeing enacted now is the power struggle between the old and the new, the past and the future…personally & collectively. As I mention the US election now it is with an objective view of the story rather than about the personalities of Trump & Clinton. Trump appeals to those affected by the global elite corporate systems (despite him having made his money through them) that have brought us globalization, trade agreements and blatant abuse of financial systems. The trouble is that whilst his maverick agenda is to stand against these things, his flawed personality does not represent a safe or healthy expression of this position. But he's speaking of these things and lots of people are listening. They will excuse him anything for the sake of change. SO it's him V the Hillary camp who are the very agents of global policy, that rewards the corrupt bankers & corporates by promoting oil wars & terrorism that keep the massive munitions and surveillance industries so prosperous. We are seeing the chaos factor write large with the bizarre Trump sex scandal in the lead-up to this NMoon, so it will be totally interesting to see what's next!!
The key here is the CHANGE urge on every level. People are fed up with the NeoCon system that lies and cheats & corrupts and disenfranchises the rights of individuals and animals and our environment. These are the vital years giving birth to a new world beyond the old paradigm of fear and lack and scarcity. SO many of us have been passing through our personal 'dark night of the Soul' as we let go of our fears and strive to step into the 'new consciousness' where we are liberated from this old shite & empowered to create a positive productive useful reality.
This is the Full Moon that's going to kick this whole process up a major notch. So make like a wise owl and observe the dance of power going on 'out there' as you say YES to progress into your new beginnings. Be brave and welcome the co-operative supportive people and their visions who will join with you!! This full moon brings emotional breakthroughs as our Soul initiates the next phase of our lives.