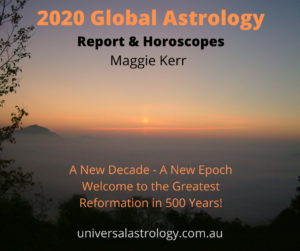 Happy 2020 my friends as we step into this brand new decade  &era.
It's been a difficult start for us here in Oz with our unprecedented bush fires with such loss and pain on so many levels. And also for our global community as the threat of war accelerates fear & uncertainty…we simply just don't need it right now. We just need love & kindness and to honor our vulnerable feelings.
My heart is heavy but my Sagittarian Soul shines on with a spirit of optimism that the best of the human spirit will prevail. 2020 brings us HUGE cosmic shifts that augur the next renaissance and reformation for all global systems, starting with a Lunar Eclipse on Sat 11th & Jan 12th when Saturn meets Pluto in Capricorn for the first time since 1518! So I have lots of amazing info & ideas to share with you about this biggie plus lots of other era shifts in the Cosmic Calendar!
I have decided to offer it by donation this year (scroll down), as I need to place value on the many months of work and research and writing that goes into it as I cover business/politics in some depth and also supportive tools for healing and empowering our evolution as we step between the past and the future.
SO even if you can only afford $1 that just fine and much appreciated – and there are a few other options. Many thanks in advance to my dear readers, friends, students and clients gathered over the many years of my career. I love you all. And thanks to many who have mailed to check in about the fires so kind. I'm 1000k north…it's a big country…and so much of it is burning.
Meanwhile I am late this year with my big report as I ended up in hospital over xmas and new year having two operations to repair my leg after an accident…oh joy…not! I'm now home in my moon boot confined to barracks and have finally put the finishing touches to my little epic…
Here's the rundown in the Global Report over 70 pages
2020 Overview
Some Thoughts About the Swing to Right Wing Nationalism of Recent Years
Our Spiritual Revolution
The Chinese Metal White Rat Year
2020 Eclipses
2020 Mercury Retrograde Periods
The Story of our Global Evolution Since 2008
Venus in Gemini for her once in 8 year retrograde phase
Mars in Aries for a once in 28 year retrograde phase
Jupiter in Capricorn – Time for a New Global Philosophy
Saturn in Capricorn – Restructuring our Global Systems
A Little Touch of Saturn in Aquarius
Saturn & Pluto for the first time since 1518
A Rare Meeting of Jupiter + Saturn + Pluto
Welcome to the Age of Aquarius!
Country Charts – Australia – UK – China & Hong Kong – USA & Trump
Donald Trump – Maverick Change Agent
Chiron in Aries
Uranus in Taurus
List of New and Full Moons for 2020
2020 Horoscopes – 80 Pages!
My 2020 wish us all is that we may find peace and happiness in the midst of tough times and stay clear in our light to heal and support our planet through these epoch changing times!
Blessings and love to all    Maggie
Once your donation is processed you will be redirected to my site to download a pdf of the report. If you have any problems just reply to this email… ENJOY!