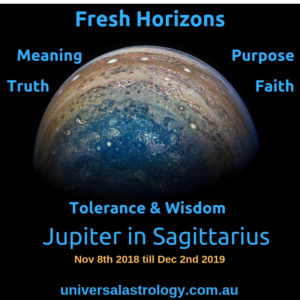 At last some good news! Here comes some fresh fire to enliven our lives with positive optimism and enthusiasm after this very testing year while he's been in deep dark Scorpio!
As Jupiter enters Sagittarius on November 8th for the first time since 2007, the global scene has rarely been in such a state of 'high tension'.
Sagittarius is all about the nature of TRUTH & BELIEFS & also rules International Trade & Relations & the Media & Social Media. His last visit in 2007 brought us the heights of stock markets & unrestrained spending leading to the GFC of 2008. So what are we in for this time?
So please don't miss my coverage of these areas & so much more PLUS some tools to empower your positive forward growth into this next phase of our life creation.
Jupiter in Sag Nov 8th 2018 to Dec 2nd 2019  Time for Fresh Adventures –  Awakening Fresh Meaning & Purpose
This is just a quick connect for November as I have spent ages creating the article so the only other mention for November is Mercury doing his retro thing in Sagittarius also from Nov 17th into December SO this brings an excellent opportunity to work on your 'meaning & purpose' for 2019! Have a fabulous November & here's to fresh pathways… BTW Jupiter enters Sag on the day the USA goes to their mid-term elections.
If you would like to make a donation for my work I am very grateful