Full Moon Lunar Eclipse July 27/8 @ 4 degrees Leo/Aquarius &   New Moon Solar Eclipse August 11 @ 18 degrees Leo
This Eclipse window heralds some pretty major social & political activity due to Mars activating the Moon in Aquarius. Indeed he shines bright rising in the east just after sunset as he makes his closest pass to earth since 2003.
So yes things have already been unpredictable crazy intense as we've been in 'the zone' for a few weeks now, as Eclipse forces come into play before the EXACT dates and hold their force for the next SIX months until the next ones in  February 2019.
Personally we are also feeling the vibe for change & upgrades that free us up and open new doors…which will indeed open as we head into September and both Mars and Mercury retrograde phases are complete. Until then grab the energy of these Leo Eclipses as they open a fresh creative spark in your life and just manage frustrating or unsafe feelings ok?
With Jupiter in Scorp & Neptune in Pisces in support there is a softer flow behind this evolutionary moment bringing high intuition & extreme sensitivity energetically, so it's wise to really nurture and protect our 'personal space' from negative influences & people! This is also how we stay sane and well in these intense times my friends.
We also have an excellent earth combo with Uranus in Taurus and Saturn in Capricorn offering steady focus & practical structural changes to develop your fresh foundations!  Scroll down for the dos and don't for Eclipses!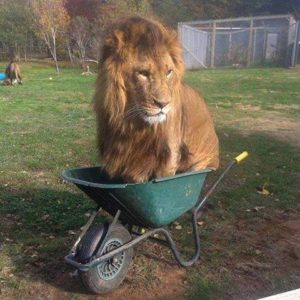 This gorgeous boy 'contained' in his wheelbarrow is a perfect image for managing these current Leo forces. As sudden events unfold over coming weeks: stay calm & centered, avoid confrontations, keep working up projects, reflect on what you need to let go of, be confident AND patient, be diplomatic, visualize prosperous futures, send LOVE to the hearts of our leaders!

So why are eclipses so important?   Eclipses happen twice a year when the sun moon & earth align on the Nodal Axis. The North & South Nodes are the points where the Moon crosses the ecliptic (the path of the Earth's orbit around the Sun) every 6 months.  Eclipses have a 19 year cycle, so any eclipse does not have a relationship with a 6 month previous or later eclipse, but rather with the eclipse which happened 19 years before!!  So if you are looking for insight into previous themes of this eclipse go back 19 years to August 1999 and search your memory for what happened then!
The Nodes are considered karmic destiny points so these 19 year cycles open major karmic relationships and events that move us forward toward destiny if they trigger our personal horoscope. If you have planets/points up to 7 degrees of Leo/Aquarius & Taurus/Scorpio then the Lunar eclipse on the 28th is significant for you. If you have planets/points between 14 to 22 of these signs then it's the Solar Eclipse that's a game changer in your world.
Historically eclipses can trigger major earth shifts & changes…quakes etc. plus big shifts in cultural & political activity in the regions under the path of the eclipse over the earth…in this case it will be completely visible over Eastern Africa, and Central Asia, seen rising over South America, Western Africa, and Europe, and setting over Eastern Asia, and southern Australia.will see the moon block the sun for almost two hours.
Thanks to Astrologer Phillip Lindsay for also pointing out Uranus & Mars on the July 27 Lunar eclipse astro-cartography lines running through coastal California, with the possibility of tectonic activity…we shall see. The 'Great American Solar Eclipse' last August was followed by unprecedented wildfires and storms!
Phillip also covers the remarkable Thai cave rescue very well, so well worth a read. My simple point is that this event has incredible archetypal synergy with our current Jupiter in Scorpio connection with Neptune in Pisces…lost in the dark watery depths and resurrected! Such a good news story in these bad news times. If only humanity could unify forces like this to deal with cleaning up our planet and creating sustainable energy systems!
As Uranus in Taurus is tightly involved in this story we won't be surprised by surprising financial events, due to lots of options like the escalating trade wars, unsustainable debt obligations, sudden reversals in stock markets…ah it's all so big and messy and greedy and unconscious isn't it? Ultimately Uranus in Taurus over the next 7 years is meant to offer an awakening healthy conscious approach to correct use of money and resources, but before we get to that possibility things have to break down first right? Personally it's cool to reign in debt and liberate yourself from the need to own and possess 'stuff' and simplify your world!
Last month I posted a timeline of events from 1939 leading up to WWII – the last time Mars was retrograde in Aquarius in hard aspect with Uranus in Taurus. As this July 27 Lunar Eclipse triggers this story we must send hearts & minds to calm reactive words and events! I have left the full details at the end of my little Eclipse insights if you'd like to recap.
Eclipse families are called Saros Cycles that have themes or features. The Leo Solar Eclipse on August 11 is from Saros 2 New North  "…can bring sudden collapse of plans or life styles that create re-building and transformation with far reaching effects for life direction". This cycle takes us back to July/August 1999… the 'Grand Fixed Cross Eclipse' as we headed toward the Millennium 2000 and the Nostradamus end of world predictions were in full swing, and the 'Millennium Bug' was going to take down computer networks…remember? What was happening in your life then as here lie clues for current possibilities.
Eclipses can have a wildcard effect that that we don't see coming that shift us from one state to another very quickly for our evolution. They can provide whatever it is we need to get moving even if it is something challenging! They bring new life events that can change us in major ways, such as people leaving our lives or new ones entering.
Try not to take major decisions, action or make announcements around the eclipse time but rather wait at least a few weeks to see what events unfold & more information develops. Stay open to sudden developments that take you to unexpected outcomes…i.e. not what you have intended but what your destiny really has in store.
Ancient tradition offers the idea that eclipses offer a periodic 'pathway to the gods' as cosmic safety valves, which periodically allow evil forces to escape into the Cosmos, where they will be of no harm to mankind.  According to certain occult theories, the shadow lane of the solar eclipse permitted initiated priests to communicate with the higher gods, and to put to them questions of profound importance.  Some scholars maintain that this was the underlying reason why the ancients built the mysterious stone circles which are still scattered through parts of Northern Europe.
So as close as you can to the times listed below make like your own priest/ess and set intentions to be brave and fearless as you invite innovation for your life and let go of the past. It could just be life changing!!! Here's a recap of Eclipse magic…
Likened to a supercharged New or Full Moon – strong reactions
Fated events or destiny points – wildcards that shake us up & move us forward very rapidly – provide us with what we need to get us moving i.e. rival/critic/benefactor – pieces of puzzle revealed
"Outside" events beyond our control with lasting outcomes
Big news you long remember – buy/sell homes – start/finish business – new partners/endings – babies – inheritances/loss of income source – new pet/lose one – health issues – surprises/shocks
Cross bridge to 'new land' with no going back – ready for new phase
Consider proposals & decisions but don't act 2 weeks either side – wait for more info & let dust settle – don't make empty threats
Compress 'time' & speed things up – timetables change
Show us capabilities & strengths that may surprise us – face fears etc.
If on Birthday particularly important shifts/changes/open new 19 yrs.
Note all news & signals as can foretell big changes on the way
Lunar Eclipse July 27 LA 1.20pm  NY 4.20pm  UK 9.20pm  OZ 7.20am 28th   Solar Eclipse August 11 LA 1.47am  NY 4.47am   UK 9.47am  OZ 7.47pm
Here is the link to my free e-book "Depression – Finding the Light in the Darkness".  Time to check in for a session with me? Blessings and love to you all Maggie
Recap of Mars from my June letter…
Please remember Mr. Mars can arouse anger and conflict on the downside and in his positive expression offers great courage and the confidence to do our own thing in the inventive sign of Aquarius. So be very aware of the tendency for ruptures between polarized positions and pick your battles wisely right through into November when he leaves Aquarius and heads into Pisces. Staying objective and non-reactive is essential as we focus on our own need to adapt to change and re-invent our lives.
OK so let's explore the deeper implications of this rare Mars in Aquarius retrograde phase. The last time he was here and in this connection with Uranus in Taurus was 1939. Any bells and whistles going off yet? Here's where I encourage you to stay very objective as I share this information as I state yet again that my politics is "peace" and I am merely an Astrologer who uses historical cycles for insight into current cycles and their potential. In other words "don't shoot the messenger" lol.
Here is the 1939 timeline of Mars retro in Aquarius with Uranus in Taurus.
May  Jupiter into Aries (where Chiron now) – Mars entered Aquarius – Rome-Berlin Axis – Hitler proclaims he wants to move into Poland
June   Pluto into Leo – Test flight of 1st rocket – Jewish refugees denied entry into USA
July  Saturn into Taurus (where Uranus now) NB. Hitler's Sun is O deg Taurus  – Mars retro into Cap
Aug  Sat square Pluto – NNode 0 Scorp – Hitler "T4 Euthanasia Program" – Holland & Poland mobilize
Sept  Mars in Cap Retrograde– Hitler invades Poland & 1st WWII begins – Soviet Union invades Eastern Poland –  Mars re-enters Aquarius
Oct  Mars Aquarius opposition Pluto Leo –  Hitler deports Jews –  Einstein informs FDR of potential of atomic bomb – First animal conceived by artificial insemination
Nov    Exact square to Uranus Taurus 20 degrees Nov 4th and 5th – Nazis begin mass murder of Warsaw Jews –
I know this is heavy stuff and I'm certainly not calling that this current phase will open another major war although the Iran situation is a concern…but some of the echoes are rather chilling. We are now in the midst of cyber wars, currency wars and the crypto currency revolution, massive control of populations via data mining, biological wars. Yep it's all happening. But to what end? When are we finally going to transcend the ages old paradigm of control through polarization and the belief that war is normal? Well it is up to us to heal this within our own nature so we can accelerate the global Aquarian shift that honors co-operation and unity to use our global resources consciously for the benefit of all…not just the global elite.
Astrological cycles are so rich in insight. If only our human species would learn from the mistakes of the past and get on with evolving into 'conscious co-operation'. We see both the powerful political events of 1939 that would eventually lead to a complete re-organization of the global power structures at the end of WWII. Also the genesis of the technologies that would give rise to atomic power, radar, sonar, first generation computers and rockets. I've included another link about the 'new experiment' happening right now in the Middle-East to create the first e-hub and in Estonia to create the first e-country. Yikes!
We must not surrender to 'victim consciousness' and use our thoughts and words and actions from our 'safe power' and compassion, but also be willing to fight for social justice and not just complain about the actions of our so called political and business 'leaders'.
Astrology and Past Lives 2 day Program
Past Life Therapy is a tool for release and resolution of issues in our current life. By obtaining the birth data of the lifetime from Higher Self while in the regressed state, we also end up with the Horoscopes  for the past lifetimes. AMAZING STUFF! Groups of 8 people only for this unique program.
Sat/Sun 22 & 23 September OR
Sat/Sun 27 & 28 October