Well it's been a tough few months on many levels as good old Saturn & Pluto in Capricorn joined the Karmic Nodes during April digging up so much deep old emotional material from our unconscious leaving many folks depleted and vulnerable.
It's a crazy uncertain world out there so be kind to yourself as you let go of old feelings…it's just our fears & insecurities we no longer need. Laugh and by silly whenever possible, connect with your positive optimistic self and have the courage to speak your truth.
We are all releasing the past during 2019 in preparation for the beginning of a grand new EPOCH kicking in from Jan 2020! Check my 2019 Report for the heads up on just how big this is!
So you'll be pleased to know things lighten up in May as planets in Taurus flow much more happily with the Saturn/Pluto team, so your focus is on building and organizing finances and opening your prosperity consciousness. Use this yummy New Moon to visualize yourself in full abundance, trust & flow and say your mantra "I am valuable & in my power to manifest wealth in all aspects of my life".
With Venus who rules Taurus, in the sign of Aries until mid-month we have speedy forward motion & progress on projects that may have felt blocked or stalled, and with Mars in Gemini also till mid-month it's busy and social with fun and stimulating connections. Make the most it!
The New Moon on the 5th is also hugely stimulated by Mars in Gemini opposing Jupiter in Sagittarius, so we can anticipate yet another flurry of 'extreme ideas & information' AKA propaganda & what's real and what's not, and also lots of 'fighting words'! This is the theme of 2019 on steroids, as media & social media is called to account for their role in society, and we are challenged to check facts & be very careful what we say and who we believe. BTW this is all over Mr Trump's chart so he'll be tweeting his little heart our over these days. He has made lying the new normal lol.
On the up side the Jupiter in Sag opportunity contains many 'conversations' about issues in our culture to bring the light of truth to the ways we've been lied to by our politicians and media about the horrors of war and the sinister motives behind it, what we're doing to our ecosystem and the forces which incentivize us to play along with ecocide, racism, sexism and other forms of bigotry, the manipulations of the financial sector, money in politics, the evils of factory farming, the prison system, the evils of the pharmaceutical industry, and the structures which keep economic injustice in place. We can't fight problems if we can't see them clearly, so we have to turn the lights on in all of these areas. Only then can Saturn & Pluto in Cap begin the 'reformation' so desperately needed over coming years.
Mid-month Venus slides into Taurus to continue the manifesting theme of May, so stop and smell the flowers, enjoy your garden and green places, cruise art galleries and sing and dance your heart out! Just keep that credit card in your pocket as Venus just loves to indulge…sometimes beyond her means. The theme of our time is CONSERVATION and PRESERVATION so it's time to learn to manage your impulsive desires. It costs nothing to go for a walk in nature and hug a tree!
Mars heads into Cancer also mid-month bringing family and home based areas into focus right through until late June when he steps into the challenging Saturn/Pluto zone…more on this next time. So for second half of May this brings the home and family and emotional safety territory front and center. He's in Cancer right through June so use this time to nurture all you hold dear and do some renovations to both physical and emotional homes. Just be careful of your 'emotional reactions'!! Great opportunity to notice your 'defense systems' when feeling unsafe or vulnerable. Ask for hugs and give them.
Our Full Moon @ 27 degrees Scorpio/Taurus on the 18th connects us to the passion and intensity of the feminine realm…very yummy for empowering our life from the deepest level of our being! As these are our two money signs security themes will arise so "I am safe and secure and in my power" is your mantra. Avoid control dramas and let go another layer of old attachments so you tap into Uranus in Taurus call of our time to liberate our security fears ok? No small feat in these very insecure times on planet earth. Trust & flow my friends!
Both Sun and Mercury zoom into Gemini on May 22nd opening our 3rd stage of the natural year. Gemini rules ideas, connections and information we need to grow our projects so late month we have very busy 'mind and mouth' times. So if you're feeling wanderlust or restless & general need for fresh stimulus go for it!! Spontaneous trips & meetings with remarkable minds is just what we need right now, with a good dose of some fun thrown in as goodness knows we've had way too much serious stuff lately! Gemini keynote is DISTRIBUTION of ideas & knowledge so if you've got something to say or teach get it out there. And remember to stay adaptable as the wind changes…frequently over coming weeks!!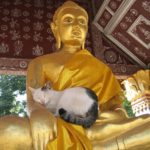 The Wesak Festival        Buddha's Birthday
This is the most sacred New Moon each year as it commemorates the birth, enlightenment (Buddhahood), and death of Gautama Buddha who is universally acclaimed as one of the greatest benefactors of Humanity.
As Taurus is all about the VALUES that underpin our world I'm setting my intention for this new moon to open a MIRACLE mass collective awakening in our political & business leaders! With revolutionary Uranus now in Taurus for the next 7 years it is time to liberate our attachment to greed and unbounded abuse of our natural world!
New Moon 14 deg Taurus
LA 14.47 4th  NY 17.47 4th
UK 22.47 4th  OZ 8.47 5th
Book a session to work with Maggie for ideas & tools to re-invent your life!
Next Intake for my new Astrology Certificate e-Course on May 14th
incorporating Astrology & Soul Centered Emotional Healing Models…with webinars & recordings.
Live long and prosper my friends
Much love Maggie