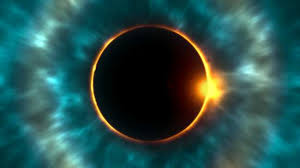 Love this fab Solar Eclipse image from NASA looks like an iris doesn't it!?
Indeed the ancient astronomer priests believed they are a periodic 'pathway to the Gods' or portals whereby we receive important information or open new karmic pathways!
So open that third eye of yours on July 2nd in US & UK and 3rd here in Oz and connect to Universal Source guidance!
It falls at 10 degrees Cancer & is followed 2 weeks later by the Lunar Eclipse @ 24 degrees Cancer/Capricorn highlighting home/family & business areas, & with Venus also hanging out in the watery realms of Cancer in July our focus requires nurturing the home fires & business areas both psychically and emotionally.
The 18.5 year eclipse cycle brings us 2001 for echoes on this one, so cast your mind back & see if this was a significant shifting time for you? This series brings 'news that transforms a situation but avoid worry or obsessiveness, as well as forming plans or activities that can be very positive as long as we don't get carried away'!
SO if you have planets around 10 deg or 24 deg of Cancer/Capricorn or Aries/Libra the wheel of destiny is about to turn as eclipses bring new beginnings that accelerate growth and development. If you don't know then check in with me for a session so you can work WITH your evolutionary process!
Next cab of the rank brings us our 2nd Mercury retro season for the year from July 7th for the rest of the month…also in Cancer. As our little mate Mercury rules our 'mind & mouth' we'll be thinking & talking 'emotionally', which can be fab for honest conversations about how we are feeling and asking cleanly for our needs to be met got it? Downside can be emotionally reacting so best to sleep on it if you're running a charge about someone or thing!
Always best to use Merc Retro for the 're' things – re-think re-organize revise & in general not a time to make our impression felt & as always stay fluid as plans change or messages & IT stuff goes into melt down. Stay cool my friends.
I've saved the best till last as we have action planet Mars trending through Leo till mid-September bringing much needed fun & passion & courage to stimulate those Cancer home fires!     July keynote – BE KIND – AVOID DRAMA & have some fun wherever possible…
Blessings to you all my friends
My next Seminar
2 day Program
Sat August 10th AND
Sat September 7th
Planets in Aspect – The Soul's Code Revealed
Our Soul moves through lifetimes in an evolutionary process and brings in old unresolved issues, or our 'stuff' contained in our DNA programming.
Our Soul then 'downloads' it's 'program' into our psyche to set up our life's journey, so we may heal old soul issues and ultimately release the healthy expression of our true purpose. This occurs via the 'aspects' or relationships between the planets in the horoscope providing the key information that links our soul & our psyche.
Please join me for both a practical and mystical 2 days together in as we explore:
The Aspects – Divine Geometry!
How the planets create the many different 'voices' that comprise our psychological makeup… or 'our inner voices'!
Core themes and issues for each planet
Aspecting the chart – step by step approach to reveal how the relationship of the planets or 'voices' sets the tone for the many divergent energies alive and operating in a person's psyche.  Some of these relationships are easy and positive, and some are difficult and challenging.
How the aspects reveal the programming that sets up our unconscious emotional patterns & links to our soul growth agenda
How to re-program limiting patterns so they become functional and thus heal old Soul issues
How we can 'synthesize' the many divergent components of our makeup to become a conscious individual
Fun techniques for working with our 'voices'
All welcome at any level of Astrology. You may order recordings of the workshop if you cannot attend.
Mail me to book