Gree
tings friends as we begin to take stock of the tumultuous events of recent weeks courtesy of the once in 500 year 'Global Reset' meeting of Saturn & Pluto in Capricorn.
Many thanks to all who made a donation for my 2020 Global Report & Horoscopes where I outlined the massive significance of the unfolding cycles, and in this case I am sorry to report that Astrology has yet again proven to be way too accurate.We are indeed reaping the rewards of the unconscious material world model birthed way back in 1518, and it seems nothing short of catastrophe will force us to begin to clean up our act.
I'll discuss more on this plus the Corona virus situation in the main section…
On a more positive note we are somewhat free of the 'heavy Capricorn stuff' during February as first Mercury enters Pisces on Feb 4th and then Sun into Pisces on Feb 19th.
This is the final stage in our natural year cycle where we release the past & connect to our higher nature to invite inspiration for forward motion after the Equinox on March 21st. With so much fear swirling it's so important to take time out where you can, rest, reflect, gestate, trust and flow. Your mantra is "I am safe – all is well'.
Send love to all who have suffered loss and bless our poor natural world & the animals.
I Welcome You to Book Your 2020 Session
January 2020 was a 'Game Changer'!!!!
It's always fascinating to see how the planet cycles play out in our lives & the world, as even though we Astrologers can make a call that hard line Saturn meeting up with power planet Pluto in Capricorn in January would be a tough combination that would impact social structures, we can't 'predict' the exact events that will come to pass. This is because Astrology studies planet cycles and their history…it is not a fortune telling tool lol. The last time they met in Capricorn was 1518 when the Reformation began and the new world was born.
We have an impressive but daunting list of events that are indeed impacting our 'social structures' including the devastating fires here in Oz that are still burning & so far have taken 14,000M acres 37 lives over 2000 homes & a BILLION wildlife. Oz has become the 'canary on the coalmine' for the obvious reality that the climate has already changed thus it is imperative we pull out all stops immediately to revision our values to cooperative co-creation to SUSTAINABLE industry!
Major Volcanic activity in the Philippines & flooding in Indonesia –  US unprovoked assassination in Iran amping up mid-East tensions – civil unrest in many nations – the bizarre US impeachment 'trial' of Trump – Brexit in the UK with huge implications to the ongoing members of the UK and the EU. Then there's Mexit as Harry & Meghan exit the Royal Firm, and the ongoing threat to Prince Andrew and the Epstein saga. And now we have the latest Corona virus out of China bringing the world into lock down and adding to the already overheated fear meter as everyday people wonder what the hell is going on. More on this below after the planet report…
Let's do a step by step through January to see how to respond to the interweaving energies…
Mercury enters Pisces – February 3 (11:37 GMT) – On the upside Pisces brings a beautiful opportunity to commune with our higher nature to work with intuition & imagination to incubate further growth…very artistic with a tendency to escapism from worldly concerns. With all the drama happening in our world it is indeed so tempting to turn off the news and disappear right? Very important to rest and reflect & trust your Soul to guide you even if things are not clear. Downside brings confusion and lack of clarity with uncertainty about best next moves, and the need to CHECK FACTS as outright lies & misinformation are a signature of Mercury in Pisces!
2020 Mercury retro periods are in WATER signs thus our MENTAL and VERBAL focus is driven by feeling and intuition, so here is to a whole new level of compassion in our global dialogue and personal interactions. The retro periods are opportunities to re-do, re-evaluate, re-organize, research, review and plan. The God of the 'mind & mouth' is set to spend 11 whole weeks in the watery realms of Pisces as he has his first retrograde season here. (Next comes Cancer in June/July & lastly Scorpio in Oct/Nov.)
Mercury turns retrograde @12 Pisces on Feb 17 & heads back into the late degrees of Aquarius before turning direct on 10th March. So rather than buying into feeling frustrated by a lack of direction or clear motivation just stay patient and pause for breath as you mull over next steps. As ever do the Merc retro protocol and back up data, avoid signing contracts as details will be hazy, and re-do re-vise & all the re words you can think of! He does not return to 12 Pisces until 30th March & remains in Pisces until April 11th when he kicks into Aries. SO think of this whole period from Feb 3rd to April 11th as a major pause in proceedings as you gather your inner resources and & tap into Universal Source energy to download fresh inspiration!
Venus enters Aries on Feb 7th – So while our minds & mouths are in feeling mode our Venus relating energy is very active for the rest of Feb until March 5th when she enters her home sign of Taurus. She is quite confident warm and friendly in Aries and enjoys connecting with others without conflict, so here's to her reasonable vibes prevailing in our lives and on the world stage.
Full Moon @ deg 20 Leo on Feb 9 (07:33 GMT) – I am loving this Full Moon with Mars in Sagittarius in  positive connection to Moon in Leo to motivate our personal and global story with snazzy upgrades & changes. Sun in Aquarius drives the essence of humanity and community as an interconnected organism with equal rights for all creatures great and small.
Aquarius brings us the progressive thinkers and inventors who are inspired to improve society, as well as the activists and change agents who dare to confront old guard entrenched systems that have 'calcified' and outlived their useful form. We LOVE Aquarius!!! And yes I am one! Aquarius is associated with political systems and the opposite sign Leo with the leaders who are meant to represent the best interests of all.
So this Full Moon with Mars in Sag calls us to demand our leaders and political systems be accountable and act beyond their loyalties to old guard business interests! We can expect some big news internationally re said leaders & their 'accountability'. Interesting that the Democrat selection process begins under this full Moon. Then there's the international implications of the Corona Virus.
Mars enters Capricorn on Feb 16 – for 6 weeks until April 1st – The action planet coming in to join the party of planets in Capricorn will trigger next moves in the 'global reset story' into March. More on this in the next letter and how and when to use this guy to grow your 2020 success potential. Generally Mars in Cap is exalted or at his best in Cap as he's able to direct his force with strategic planning toward his goals.
Sun enters Pisces on Feb 19 – Had a big chat about Pisces in the Mercury section so scroll back to refresh your memory.
New Moon @ 4 Pisces on Feb 23 (15:32 GMT) – this is quite a beautiful N Moon with Mars in Cap + Uranus in Taurus in harmonious connections. As Pisces regulates the spread of the emerging Zeitgeist into the collective field I'm getting this will be supported by the new wave of values beyond the unsustainable past.
The Corona Virus story
I have been interested in the whole VIRUS thing since I saw the Horoscope for the New Millennium back in 2000. This is the chart for the next 1,000 years so yes very important right?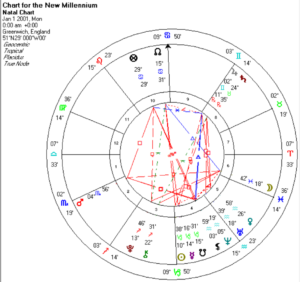 Here is what I wrote in 2002 – "I immediately noticed the Moon in Pisces @ 18 degrees in the 6th house of health.  I couldn't help but spontaneously (or was it intuitively) say out loud – 'this is a plague chart', and quickly admonished myself for being somewhat dramatic. The Moon in a Mundane or Collective horoscope represents the emotional health of the people – also their capacity for nourishment (food etc) and nurture and  Spiritually the Moon is also the group Soul.  Moon in Pisces is ruled by Neptune so the emotional health of the group or collective human species is totally linked with the Spiritual health of said human species.  So, immune system issues will be a feature as Neptune & Pisces rule the immune system".
Well we haven't had a major plague or pandemic to date, with 20 million deaths as was the case with the 1917 Spanish Flu! So please don't freak out as I am NOT predicting one! But this latest Corona Virus event is the third scare since 2000 and the whole immune system virus thing has been up both in terms of physical health and also in the computer world right? Here are the 3 main outbreaks with the transits to the Moon in Pisces on this chart – very interesting!
SARS – Nov 02 to July 03 – Pluto in Sag square Moon Pisces 18 deg. Epicenter was China, where the  killed 814 globally.
The 2009 flu pandemic or swine flu lasted from April 2009 to Aug 2010, involving H1N1 influenza virus, albeit in a new version. Epicenter Mexico with approx 201,000 deaths. Saturn in Virgo oppose Moon Pisces & Neptune Aquarius conjunct Venus 26 deg.
Corona Virus outbreak Jan 2020 – Mars in Sagittarius square Moon Pisces 18 deg in late January.  Neptune in  Pisces began to conjunct Moon @ 18 deg from May/June/July 2019 with more passes to come in March Oct/Nov/Dec 2020 Jan 2021. As Neptune is the ruler of Pisces his arrival onto the Moon is a once in 164 year event!
At the moment (Feb 5th) there are massive efforts to contain the spread of the virus with over 400 deaths in China & estimates of 20,000 infected. The SARS outbreak back in 2003 was contained within 7 months with relatively few deaths compared to the predicted PANDEMIC. So with Neptune in play for the remainder of 2020 it will be interesting to see how the containment process timing plays out. Just remember the big hype from SARS was very overinflated so at this stage don't buy into this event being a PANDEMIC.
The Immune system is the invisible energetic system that protects us from incoming harmful virus and bacteria. Energetically it also protects us from harmful & toxic people who drain us of energy if we buy into their stuff.The way to empower yourself right now is to strengthen your IMMUNE system with healthy BOUNDARIES that protect you emotionally. In other words its OK to say NO & be careful who you choose to hang out with & what media you watch.
It is easy to go into feeling overload when we see so much pain & suffering PLUS anger and frustration at the ineptitude of our leaders, so by all means connect with your compassion (also ruled by Neptune & Pisces) and then step back into your healthy objectivity asap!  Physically we support the Immune system with masses of good quality Vitamin C plus Broccoli Garlic Ginger Spinach Yogurt Almonds Turmeric Green Tea Papaya Kiwi Sunflower Seeds & Shellfish – and lots of good sleep!
Stay positive and shine your light my friends
Much love from Maggie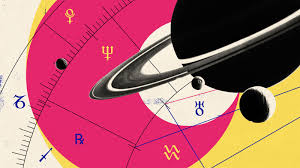 Dynamic Timing Systems
Planets in Transit – The Cycles of Life
2 Day Program
Saturday 21st March AND Sat 18th April
Please join Maggie as we learn to weave the synthesis of planets in transit to our natal chart AND to the larger collective cycles of history.
As the 10 main planets & nodes move endlessly in their cycles, they create growth and evolution both on an individual and collective level at all times. The remarkable part in all this is that each of us gets exactly what we need on every day of our lives to fulfill our birth script or Horoscope blueprint! A cosmic symphony of epic proportions!
On our first day we cover the transits of the Sun, Moon, Mercury, Venus and Mars through the horoscope as they stimulate the daily, weekly & monthly trends, AND the transits of Jupiter & Saturn in their 12 and 28 year cycles.
On day two we go deep as we explore The Outer Planets – Chiron Uranus Neptune & Pluto as they forge the deeper shifts and evolutionary processes within our life experience.
You may order recordings of the workshop if you cannot attend.  
Recordings are ready from the Astrology of 2020 Seminar.
Mail me to book or order recordings!
Astrology is the master tool for understanding ourselves and our world! Please join me to study the best subject of all…
Universal Astrology Certificate e-Course