Greetings fellow travelers as Sun heads through Sagittarius until Dec 222nd, enriching our lives with a much needed dose of optimism in these intensely bizarre & difficult times! KEEP THE FAITH that a new order is about to be birthed as we head into 2020!!!!!
Just a quickie this month with a brief mention of cosmic highlights, as I am busy writing my BIG 2020 Global Report…stay tuned for my next email!
New Moon @ 4 Sagittarius on Nov 26th is supercharged with Jupiter in Sag for the last time in 12 years! Make the most of the fun & adventurous positive spirit on this one kids & use it to seed your 2020 with fresh vision & purpose. Write your new STORY for what you want your life to look like!!  Incoming opportunities abound, & with Uranus triggering Mars in Scorpio on the NMoon things morph out of old stagnant territory pronto!
So stay upbeat and resist the urge to lurk in the dark Scorpio realms. Use it instead to access your deepest innermost resources i.e. your power. Ah…& let go of old controlling people & stuff.
Oh yes expect lots more big news as Mars in Scorp continues to dig up more secrets…ah isn't it fun!
The big news is the arrival of expansive Jupiter into the sign of Capricorn on the December 3rd.
Here's my free article!
Full Moon @ 19 deg Sag/Gemini Dec 12th – this one is driven by Jupiter freshly in Capricorn & has strong aspects with Venus/Saturn/Pluto in Cap. This drives the VISION for the epoch shifting force of 2020.
Next comes the New Moon Solar Eclipse on Dec 26th @ 4 deg Capricorn…with Jupiter…paving the way for the Global Reset on January 12th. Previous 19 cycle was Dec 2000 just before the world changed in 2001 with 9/11. Always wise to avoid major decisions or moves 2 weeks before & after although if your chart is triggered then sometimes the Universe gets things moving for you anyway! The Eclipse path falls through Indonesia so heads up for nature being kind.
As we prepare to head into 2020 our focus must encompass the complete ecosystem that drives Mother Earth and the urgent need to heal & restore her with co-operative intelligent design – physically, politically, economically and spiritually.
Seasons greetings to all – we are all ONE! Feel free to share this and let me know how you're traveling!
Book your 2020 Year Ahead Session!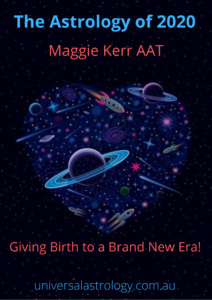 Please join us for my annual One-day gathering of the tribe to welcome our once in 730 year GLOBAL RESET
Saturday 25th January 2020
@ Nerang on the Gold Coast
Yes friends it doesn't get any bigger than this!
As the new 2020 decade opens our beautiful planet and her systems are at extreme 'tipping point' on every level.The 'unconscious' material world view that has driven our world since the 1500s based on the abuse & corruption of financial & political systems is now due for reformation.
Personally, I am VERY excited about 2020 as a breath of fresh air is also on the way courtesy of Saturn opening his stint in Aquarius mid-year, then Jupiter joining him by December.
We also have Venus in Gemini for 4 months enlightening 'the conversation', and the North Node also heading into Gemini for karmic evolution of our words and ideas.
Chinese Metal Rat Year – No 1 animal opens new 12 cycle
New Decade 2020s driven by the number 4
2020 Eclipses AND Mercury Retrograde in Water signs
Saturn conjunct Pluto in Capricorn for first time since 1518 …announces our next great Renaissance and Reformation
Jupiter Saturn Pluto in Capricorn 'triple conjunction' with echoes back to 1284…and before that 3838BCE
Jupiter conjunct Saturn in Aquarius – opens new 240-year cycle in Air signs
You may order recordings of the workshop if you cannot attend.  
Flier with Full Details
Mail me to book or order recordings!
Astrology is the master tool for understanding ourselves and our world! Please join me to study the best subject of all…
Universal Astrology Certificate e-Course