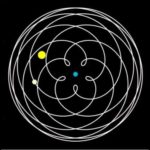 'The Venus Star' This divine 5 pointed star is the pattern created by Venus in her 8 year retrograde cycle! SO beautiful…
She is our focus in October as she began her retro period in Scorpio on Oct 7th…yes we're finally out of Mars retro and now it's Venus' turn in the cosmic dance of evolution!
Yes the Sun is in Libra so it's all about personal & global relationships, and as Venus rules Libra her Scorpio process highlights the whole signature of 2018…the abuse and correct use of SEX MONEY & POWER.
So if you're feeling a tad slow & sluggish that's ok! Don't push right now & use this time to rest, reflect & heal by using the feminine power of Scorpio. It's re-birth time folks & your phoenix only has a month to go before he/she rises from the ashes!
Jupiter then heads into Sagittarius on Nov 8th to bring fresh fire and optimism for 2019.  Not a moment too soon for my liking I must say! SO hang in there folks & make like a 'white magician' who trusts your Soul to re-birth your exciting new life just around the corner!!
Mars now continues his run through Aquarius during October & hasn't it been a wild ride as he's been doing his chaotic unstable maverick thing since May? His dynamic interaction with Jupiter…& now Venus in Scorpio continues to challenge the old paradigm 'normal' in so many kinds of revolutionary ways!
I mean wow how was that last Full Moon in Libra/Aries on Sept 25th playing out as the bizarre unfinished story of Kavanagh's High Court appointment? Libra is all about justice & law & what's fair right? And when we add the rising power of this next phase of the feminist movement we can expect many more bells & whistles to go off in the months ahead. Venus does not leave Scorpio until Jan 2019 so stay tuned! Scroll down to find out how to use Venus in Scorpio for optimum quantum healing & renewal…
You are welcome to book a session to brainstorm fresh ideas and solutions.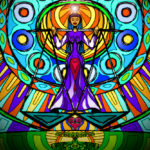 Libra is the sign of 'Right Human Relationship'… so the themes of justice & the law and personal & global relationships are the focus this month.  "From conflict to co-operation" is the essence of our evolution during these shifting times. So perhaps the extreme polarization between so many features in our culture must have to occur to bring home the message that it's time to find the middle ground where bi-partisan co-operation can arise!!
So as Sun moves thru Libra until Oct 23rd: nurture your relationships invite & give support to & from others practice healthy compromise without… giving away your power focus on PR & marketing plans negotiate fresh deals & options break out of ruts & have some fun hang out with exciting new people avoid drama & conflict make love not war! Maggie's Workshops
Jupiter in Sagittarius Saturday 3rd November
Here comes Jupiter in Sagittarius oh goodie! Once every 12 years he returns to his own sign so extra powerful… as he will be in the driving seat of the 2019 forces. His previous cycle in 2007 brought us the heights of stock markets & unrestrained spending leading to the GFC of 2008. So what are we in for this time? Sag also rules beliefs & the search for truth, as well as the media & publishing business. Fake news in extremis on the way. What do we believe? We will check your horoscopes for insights & illumination!
Reply to this email OR contact me to book in. You can order the recordings if you can't come! I am also speaking at the fabulous C*I*A* Celestial Secrets' Retreat Oct 12-15 in beautiful north NSW click for details & bookings Please join us for this special event focusing on the healing power of Venus in Scorpio
Focus on Scorpio during 2018… Scorpio rules the correct use of POWER, MONEY, SEX, HIDDEN MATTERS, RESOURCES, & the deep regenerative forces that underpin creation so LIFE & DEATH.
Within days of Jupiter's arrival into Scorpio last October the Harvey Weinstein scandal unleashed an unprecedented wave of change into our collective process I have heard described as the THIRD wave of the feminist movement. And of course it's not just about women. It's about equal rights for all repressed marginalized minority groups & in just ONE year the rules have changed!
Since Saturn entered Capricorn in January (for the first time since 1989) the battle lines have been well & truly drawn beyond the past and the future, as the swing to the right wing attempts to keep the old system based on greed & corruption & abuse & misuse of money, power and resources in place. But not for much longer!!
My call is that 'things' will come to a head in 2019/20 as Saturn joins Pluto opening a new 38 YEAR CYCLE (previous 1982/3). And then Jupiter meets Saturn beginning their new 20 YEAR CYCLE announcing a brand new AQUARIAN 'signature' – followed by Pluto into Aquarius in 2023. SO hang in there folks & keep the faith as we pass through the eye of the needle over these disruptive chaotic revolutionary few years!
2018 has also revealed the ugly vindictive face of politics where revenge and personal power are the name of the game. Where are our visionary leaders who inspire moral values like tolerance and caring and compassion?
Remember Scorpio is the death/rebirth process, so here's to his journey through Sagittarius on the way in 2019 to bring them forward!! Now Venus spends the rest of 2018 in Scorpio to really bring the message home!
We meet Venus in two primary roles – in her guise as the Goddess of Love in her ruler-ship of Libra creating our relationships so we may know safe intimacy & mutual support. She also rules Taurus where we meet her as Mother Nature & the fertile building processes of life. So here she rules things of 'value' thus 'wealth and worth'.
She goes retrograde on Oct 7th & this only happens every18 months and only returns to the same sign every EIGHT YEARS – so last time here in Scorpio was 2012. Check your memory for insights for this time! She began her retro on Oct 5th for 40 days until Nov 16th…a powerful period that gives rise to the biblical 40 days in the wilderness.
So If you're feeling a bit lost over the next month fret not as the metaphor here offers the cleansing and purifying symbolism! As she is all about our relationships and self worth, use this period to release old toxic relating patterns where you are not being valued…yay!
She is known as 'Innana the evening star' for the first 20 days as she goes into the 'dark' & we no longer see her in the evening sky. So on Oct 27th she makes exact conjunction with the Sun @ 3 degrees Scorpio and this is known as her "STAR POINT". If you have planets or Ascendant around 3 degrees then she offers important re-birth action.
She is known as 'Innana the evening star' for the first 20 days as she goes into the 'dark' & we no longer see her in the evening sky. So on Oct 27th she makes exact conjunction with the Sun @ 3 degrees Scorpio and this is known as her "STAR POINT". If you have planets or Ascendant around 3 degrees then she offers important re-birth action.
After Oct 27th as she joins the Sun she becomes 'Ishtar the Morning Star' and we'll see her gradually become visible as she comes out of the 'underworld' before sunrise throughout November. She then sheds her beautiful bountiful light for a positive prosperous new period, as we attract conscious supportive people to help us grow our lives.
The normal 'rules' apply to her when retrograde thus the whole period until mid-November is not a great time to start a love affair or buy luxury items or you may have to take them back!  Venus retro can also bring back people from the past so we can complete and heal, but usually not for happily ever afters!
Don't waste time & energy on non-productive situations, as you also keep working to grow your creative projects & stay inspired knowing things will move forward & you'll start reaping goodies after mid-November when she turns direct BUT it wont really be until after December 18th when she is totally free to move forward once more.
The Libran New Moon on October 7th is one again Venus ruled and carries a challenging connection to Mars in Aquarius. This can bring a welcome dose of fresh air with stimulating new people & ideas…there's powerful attraction forces at work here!. But can also bring discord & conflict in relationships where tensions have been building and need release.
Then we have the Scorpio Full Moon on Oct 25th @ 1 degree Scorpio with both Venus and Uranus front and center! This brings a powerful urge for freedom & breaking out of ruts and rules and can bring sudden unexpected happenings in love and partnerships as there is the need for stimulating fresh experiences.
This can also open a great few weeks to work on fresh financial setups that require innovating IT or clever people to help grow your resources for 2019 as Scorpio brings 'joint resources' into play with a 'win win' approach so all parties are empowered along the way.
So for the rest of 2018 Venus in Scorpio asks us to re-evaluate the things we VALUE & where we may need to let go of things & people whose values are not aligned with ours. It is a time to dive deep into your old power & control patterns based on insecurity…and indeed others may play old games to keep you where they need you to be for them…rather than coming from a place of loving support for your needs. Me thinks many will make some stark choices and decisions over this next 40 days!!
Venus in Scorpio offers us her remarkable gift as the Shaman Wise Woman Midwife so this next 3 months is a period of enormous healing. Be very kind to yourself and nurture your deepest sensitive vulnerable 'shadow 'bits' to allow them to become the source of your greatest power as this is the true essence of Scorpio power…from within.
When we truly know we are safe and secure we can become the magician who invites and magnetizes healthy safe people to join with us in our creative process! SO MOTE IT BE!
Blessings and love to you all Maggie